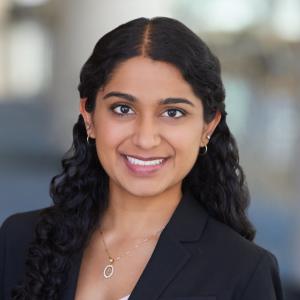 Roshini Srinivasan is a current MS3+ at Duke University School of Medicine. She was born and raised in the suburbs of Akron, Ohio, and graduated from THE Ohio State University with a B.S. in Human Nutrition with a minor in Integrative Approaches to Health and Wellness in 2018 (go Bucks!). Prior to medical school, she worked for one year at University Hospitals Connor Whole Health as an administrative intern, assisting with day-to-day operations of a hospital clinic offering integrative modalities including massage, acupuncture, and yoga therapy, and herself teaching a weekly yoga and meditation class – she is a certified 500-hour Registered Yoga Teacher – to patients and community members. 
Here at Duke, Roshini continues to live out her passions in music and the arts, having pursued the Third-Year Track in the Medical Humanities and being very involved with the annual Student-Faculty Show. She is also a Graduate Scholar at the Center for Personalized Health Care, student advocate with the Black Maternal Health Equity Initiative, co-chair of the Mental Health and Wellness Committee, and holds several other leadership and volunteer positions. Passionate about the roles of nutrition and lifestyle in medicine, and always looking through a humanistic lens, Roshini looks forward to her profession in medicine. 
Outside of medicine, Roshini's interests include singing, producing music, dancing, fitness, and spending time with her family, friends, and significant other.